Top 10 Job Interview Tips For Freshers
Facing an interview is always stressful and if you are a fresher it can also trigger anxiety! While on one hand, you are excited to enter the corporate world, on the other hand, there is a constant fear of being rejected. However, rather than being overwhelmed with negative thoughts, it's better to be prepared for the interview. Apart from this, you might not know from where you can prepare for the interview and what steps to follow for cracking the interview of your dream company.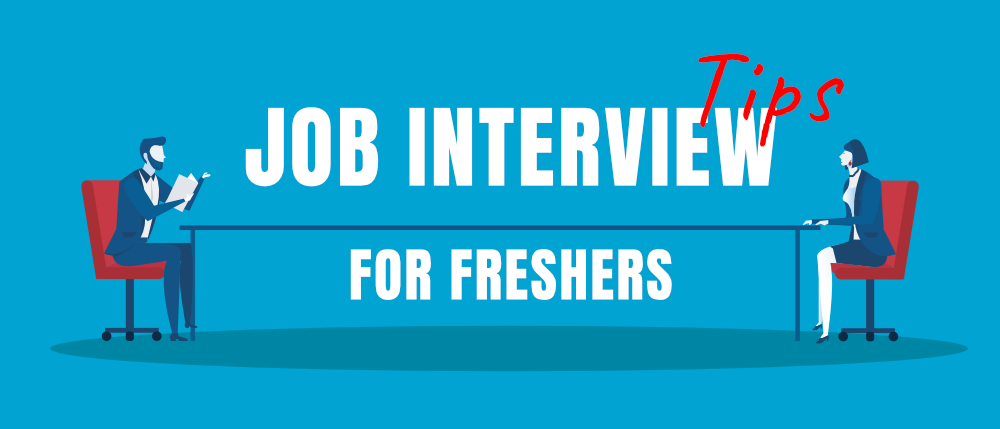 Hence, here we have listed a few points from where you can prepare yourself and make your journey less stressful and convenient. So let's get started with detailed tips and techniques you should keep in mind before appearing for an interview:
1. Know About Company and Job Role
The first and foremost step before going for any interviews is to do research about the organization you will be working for. You must go through the company website, its social media page, and research online about everything, including their year of establishment, work, competitors, challenges, and future goals. If you are asked, "What do you know about our company?", then you must have the answer on your tips, do not fumble, and tell everything with confidence. Most of the candidates skip this important step and it gives the chance to the employer for cutting out them from the list.
Another important thing that the candidates must do is understand the job role, which is very important, if you have any doubts then it's better to read about it before going for the interview. Many candidates do not research about the position they applied for and appear for the interview, which can make you look like a fool in front of the employer. If you have come across the job through advertisement or any other medium, then read and carefully and in case of any doubt, consult the recruiter.
2. Keep Documents At One Place
One of the most important things which should be done before going for an interview is to keep all your documents sorted. You must have several printed copies of your resume and do check them beforehand for any spelling errors or silly mistakes. Apart from this, line up all your academic documents, such as degrees, mark sheets, etc., both original and photocopies in one place for a hassle-free experience. You can also carry your previous internship certificates or any letter of recommendation issued by your previous mentor as it develops a bit more trust.
Furthermore, carrying a small notebook or notepad for writing down important things will also help. Along with this, it will also create a good impression on the employer and show your seriousness regarding the job role.
3. Prepare Well For Basic Interview Questions
Another tip for a successful interview is to prepare for the basic interview questions. There are many repetitive questions, which are asked by the employer, including "Tell us about yourself", "What are your future goals?" "Why do you want to work with us?" "Talk about your strengths and weaknesses" and many more. Therefore do prepare the answers for these questions and make sure the answers match with your skills.
You can also make your answers interesting by narrating them in the form of stories and adding examples from your previous experience. In addition to this, be confident, if you want you can also rehearse with your family and friends and work on your weaknesses. Hence, all these things will help you to be "smooth as silk" at the time of the interview.
4. Mock Interview
Mock interview acts as a complete informational guide for your actual job interview. It provides you with a fair opportunity to practice and improve the points you are weak at. You can prepare with family members, friends, or any of your mentors by creating a completely professional environment. Though it is just for practice, keep all the necessary documents in one place and along with the notepad to write down the feedback. Apart from this, wear formal attire and see whether you are comfortable in that or not. Moreover, avoid sounding like a robot, do not memorize the answers but communicate in a way so that it sounds engaging and makes you look appropriate for the job.
5. Dress Impressively and Be On Time
These are the two things, which most of the candidates skip, leading to the chances of losing their dream job. Therefore, if you are going for a job interview then you must dress sharply. Wearing a crisp shirt and pants along with neat shoes will make you look formal and interview-ready. Along with this, you can also carry a suit if required as it will help you look more presentable. "Say No" to big watches and jewelry and do not wear very strong perfume as these things can bring unwanted attention.
Besides this, Be on time!
Punctuality is the key to success and it can take you to heights. Being late for your first interview is the biggest mistake you can do. Always manage your time in a way that you reach the venue at least 15-20 minutes before the interview starts. It will help you keep your mind relaxed and allow you to settle down properly.
6. Show Smart Communication Skills
Having good communication skills is one of the most important qualities that a candidate can possess. Be it verbal, non-verbal, or written, you should be able to communicate effectively and know how to convey your points. As fresher many candidates hesitate to talk or ask questions from the recruiter, but it should not be the case. If you are about to work with the person or company, you must ask everything from them. While giving answers, structure in a way that shows your confidence and does not sound negatively. Always listen carefully to the interviewer and answer concisely incorporating your skills.
7. Be Focused and Maintain Positive Body Language
During an interview, it is very necessary to remain focused and keep a check on the quality of answers. The way you deliver your answers exhibits your preparation. Always think before you speak and move ahead step by step. Do not seem to be stressed as it creates a negative impact on the person sitting in front of you. Your body language also plays an important role and gives an overall peek into your personality. Sit straight and firmly and make eye contact with the interviewer while talking. Also, do not sit idle, use gestures and hand movements while speaking as it will help you earn extra points and will show your connection with the answers.
8. Ask Relevant Questions
This can be considered as one of the pro tips for freshers. Asking question from your interviewer manifests your research and makes you look curious. On asked "Do you have any doubts or questions" consider it as a golden chance for showcasing your skills and qualities. You can impress the interviewer by asking intelligent questions about their business and industry which you might join soon. This also gives you more clarity about the work which you will be doing soon.
9. Think Positively
Having an optimistic attitude is a life-saving measure. We all know that during and after an interview we all are afraid about many things, especially our future. But maintaining a positive mindset is necessary as it also helps you to showcase your confidence in front of the interviewer. Showing any freaked-out emotion to the person sitting in front of you can grab away the chance of getting the job. Therefore, it is important that you display a good attitude and try thinking from the perspective of the recruiter that what they want. As everyone wants to hire an employee who can work with other teammates and does not panic in any situation.
10. Follow Up After Completion
Thanking the interviewer is considered a common courtesy after the completion of the interview. You should send a thank you mail within 24 hours showing your gratitude towards them and for providing you with such a great opportunity. It also keeps you at the top of their minds and makes you different from other candidates. Once you get the reply you can plan accordingly and make up your mind about joining the company.
Also, it is not necessary that every time you will get a positive response, hence in that case you can ask for feedback upon why you are not offered the job. This will help you improve for your future interviews and you might get considered in the same organization for any different role.
Hence, following these above-mentioned tips will help you prepare for the interview and help you succeed. Though being a fresher you might not have any experience, putting all the effort into your interview preparation might help you to crack one and get your desired job!!
My Personal Notes
arrow_drop_up